1891:
"Bah," said Des Hermies, "dust isn't a bad thing. Besides having the taste of ancient biscuit and the smell of an old book, it is the floating velvet which softens hard surfaces, the fine dry wash which takes the garishness out of crude colour schemes. It is the caparison of abandon, the veil of oblivion." (p.30)

"But nothing can exist if you get to reasoning. The moment you argue the Catholic dogma, everything goes to pieces." (p.59)

He who had renounced all carnal relations years ago, who, when the barns of his senses were opened, contented himself with driving the disgusting herd of sin to the commercial shambles to be summarily knocked in the head by the butcher girls of love, he, he! was getting himself to believe — in the teeth of all experience, in the teeth of good judgement — that a women as passionate as this one seemed to be, he would experience superhuman sensations and novel abandon. (p.92)

"No, the only thing this century has invented is the sophistication of products. Therein it has passed master. It has even gone so far as to adulterate excrement. Yes, in 1888 the two houses of parliament had to pass a law destined to suppress the falsification of fertilizer. Now that's the limit." (p.117)

Decidedly, reality does not pardon those who despise her; she avenges herself by shattering the dream, and trampling it, and casting the fragments into a cesspool. (p.178)
Alternatively published in English as "Down There" or "The Damned", this is Huysmans' investigation of historical mystic/murderer Gilles de Rais (also the subject of Jim Shepherd's finest story), alchemy, and satanism, both historical and contemporary to his fin-de-siecle era. As usual, his novel is also a kind of vehicle for whatever topics he wants to discuss in detail, and as usual, there's art criticism. In particular an early stretch putting forth Matthias Grunewal's Crucifixion as a paragon of "Spiritual Naturalism", meticulous realistic (and in this case gruesome) detail conveying larger ideas. Huysmans apparently objected to the limited scope of the contemporary Naturalism movement (primarily in literature), but saw a return to the distortions of romanticism as even worse. Somewhat unsurprising, then, that he was instead such an early proponent of Decadence in art and a signal practitioner of its literature.
Anyway, here's that Grunewald: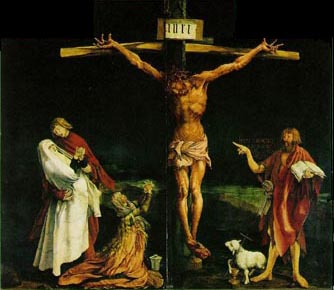 Matthias Grunewald, Crucifixion, 1510-1515
Consider the contorted, gangrenous look he's given the feet. Eek. Imagine having this hanging in your house.
(Grunewald seems to have painted quite a lot of other much stranger stuff. Admittdly, there are tons of strange Temptations, but I'm not sure what the precedent for Dead Lovers is.)
Back to the book, I'm still looking for a good version of Bruegel's "The Wise and the Foolish Virgins" to post here.